Vol. 7 No. 5 | September 28, 2010
Latin@ Heritage Month
The month-long celebration of Latina/o heritage runs through October 16 and includes concerts, movies, book signings, and more. Campus Dining is also participating with special meal selections at the Hot Spot. A complete list of events is on the Multicultural Student Center's website.
---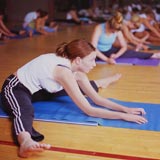 Fitness Week—October 4-9
Campus Recreation Services kicks off Fitness Week as part of the Freshman Fusion activities. Freshman Fusion is a fitness program designed specifically for freshman students with incredible workouts, workshops, and prizes. In September, students focused on fitness and health education, including stress management and workout sessions in residence halls. October features exercise routines beginning with Fitness Week events.
Oct 4 - Chair Massages
Oct 5 - Spinal Screenings
Oct 5 - Personal Trainer Consultations and Assessments
OCt 5 - Small Group Training Session
Oct 6 - Intramural Sports Weightlifting Competition
Oct 8 - Personal Trainer Consultations and Assessments
Oct 7 - Small Group Training Session
Oct 8 - Intramural Sports 10K Run
Attendance at Freshman Fusion events has been high this year, so encourage your student to sign up early as classes fill up fast.
During Family Weekend, Campus Recreation Services extends an invitation to families (18 years or older) to use our facilities, programs, or services during your visit—your entry fee is on us! That's right; we encourage you to experience our facilities for a workout, zumba class, swom, or any of the programs or services we offer. Come feel the energy of the residential campus! Don't forget to bring your gym bag along with you during Family Weekend!
---
Family Weekend - Register Today!
If you haven't signed up for Family Weekend, you still have time to mail in your request form, or simply call the Central Ticket Office at 888-520-7214 toll-free, or 928-523-5661 local. You can download the order form online.
Will Call tickets will be available at the Central Ticket Office in the University Union from 9 AM until 8 PM, Friday October 15. On Saturday, October 16, Will Call will move to the Skydome Box Office and will be open from 9 AM until halftime of the football game.
---
Registering Bicycles
Last week we discussed how to better protect and lock bicycles on campus. The second part of securing bicycles is to get them registered. Registration helps police identify and recover lost or stolen bicycles. In addition, if a bicycle is ever impounded, the police can notify students and ensure bikes are quickly matched to their owners.
Bicycle registration is FREE on campus. Bikes can be registered at Parking and Shuttle Services located in the Centennial Building (bldg. 91) on north campus, Monday through Friday, 7:30 AM to 4:30 PM.
Students can also register bicycles at the Flagstaff Police Department for $1. Flagstaff Police Department is located at 911 E Sawmill Road, Flagstaff.
---
Family Weekend - Casino Nite!
You are invited to the School of Hotel and Restaurant Management's 17th Annual Casino Night, part of the 2010 Family Weekend.
WHO: Everyone! Students and parents.
WHAT: Casino Nite includes a raffle, silent auction, prizes, and lots of fun GAMBLING! A dinner package is also available.
WHEN: Saturday, October 16, 6-11 PM
WHERE: The du Bois Ballroom, bldg. 63, on south campus
Tickets can be ordered now through the Central Ticket Office. This event helps raise scholarship dollars for the School of Hotel and Restaurant Management. Thank you for your support!
---
The Plaid Place To Be
Participating in Welcome Week, your student was sure to rub shoulders with Plaid, the student-run online resource center. You may have come across Plaid's work while researching Northern Arizona University—Plaid's YouTube videos are a hit with parents looking for more information about campus. In addition to campus tours, Plaid creates how-to screencasts for university applications such as e-mail and Google Applications, and highlights resources available to your student such as the Student Learning Center.
There are so many events, clubs, organizations, and resources available that it's easy to miss something important simply because you or your student didn't know about it. Plaid's mission is to engage students and inform them about these resources so they'll know and participate. Plaid is the place to be for your student to find ways to get academic support, stay organized, socialize, and stay involved.
Plaid is online at Facebook and they maintain a blog that students can follow.
---
Event Highlights
♦ The Department of Theatre presents The 25th Annual Putnam County Spelling Bee, the Tony Award-winning new musical comedy. Performed at the Clifford E. White Theatre, October 15, 16*, 17*, 20, 21, 23*, 24 at 8 PM (*2 PM matinee performance). Tickets available at the Central Ticket Office.
---
Flagstaff event highlights can be seen at ShowUp Flagstaff.