Vol. 7 No. 12 | November 23, 2010
Residence Halls Closing for Winter Break
by Alicia Stewart Voytek, Office of Residence Life
All residence halls will close for the winter break on Friday, December 17 at 10 AM (excluding downtime halls Tinsley, Gabaldon, McKay, and Pine Ridge Village). Students involved in the December commencement ceremonies will be allowed to stay until noon Saturday, December 18, with approval from their Residence Hall Director. The residence halls will reopen at 9 AM on Saturday, January 15, 2011.
Over the winter break, the halls are locked and card access is blocked until the halls reopen in January. Students returning in spring to their same room can leave their belongings in their room over the break, but are encouraged to take home critical items. This includes laptops, cell phones, airline tickets, glasses, medications, and other needed items as students will not be able to access the hall.
Residents leaving the university need to arrange a check-out time with a Resident Assistant, and move their belongings out of the hall by 10 AM on Friday, December 17. If your student has any questions about closing, his or her Resident Assistant and Residence Hall Director are the people to ask. Good luck to your student with finals, and have a happy holiday season!
---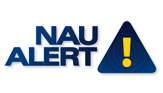 Winter Closure Announcements
NAU Alert is the university's free emergency notification system that offers an easy way to receive urgent text messages, including weather-related closures. Only emergency or other urgent messages will be sent via NAU Alert. The system will not be used to distribute advertising or other unsolicited content. Everyone who signs up can add a second phone number for a friend or family member.There is no annual requirement to re-enroll.
---
Thanksgiving Dining Hours
Is your student staying in Flagstaff for the Thanksgiving holiday? Since the university will be closed, be advised that Campus Dining hours (PDF) will vary. Please check the dining website for other official announcements.
---
What is End of Term Week?
End of the Term Week (or Reading Week) has been developed to make sure students are not overly burdened at the semester end with non-academic activities, new course assignments, or evaluations of their work. The end-of-term-week policy will be in effect from Dec 6 to Dec 10 and during this time, student organizations cannot schedule any activities or major events that interfere with studies, except on the weekend. However, professors reserve the right to schedule quizzes, lab exams, and presentations during this week. This and other academic policies can be accessed in the Student Handbook.
---
Go Greeks!
Fall recruitment for Greek Fraternaties and Sororities was a huge success this fall with more than 500 new members--an increase of nearly 50% over last year. If your student is a part of Greek Life, he/she may have been involved in one of these recent service higlights:
Mountain View Resident Assistants donated $1,500 in proceeds raised from the spring Mr. Greek Pageant to two deserving organizations:

Inter-Fraternity Council and Panhellenic Council, the two governing bodies for our fraternities and sororities, donated $2,000 to a Northern Arizona University family whose house was destroyed by the recent tornado near Flagstaff

The Up 'til Dawn letter writing campaign had more than 300 students participate in writing more than 7,200 letters for St. Jude Children's Research Hospital. As of Monday, November 15, the campaign had already raised $6,272

Delta Delta Delta Sorority was honored with the Rodney Mather Award for great civic service, raising more than $27,000 for St. Jude Children's Research Hospital during their letter writing campaign "Sincerely Yours" this past spring
---
Start Thinking About Housing for 2011-2012
by ALICIA STEWART VOYTEK, Office of Residence Life
It's the time of year when the Office of Residence Life starts to plan for "Reapplication"--the process through which current residents sign up for on-campus housing for the following academic year.
With consecutive years of dramatic growth in our student population, we continue to experience high demand for housing on campus. We now house more than 7,100 students on campus - roughly 41% of the total Flagstaff campus population. This is a significant percentage compared to our sister institutions in Arizona, as well as compared to other universities nationally that are similar in size to Northern Arizona University.
What also makes our university unique is that almost 50% of our on-campus housing is dedicated to upper-division students. This differs greatly from other large colleges and universities, where the majority of space is committed to freshmen only, and returning students are expected to move off campus.
While we house a significant percentage of upper-division students, we still anticipate that more students will want to return to live on campus than space will allow. To provide a fair process all current students having an equal chance to reapply, a full campus lottery process will be implemented for all current students wanting to live on campus for 2011-2012. Current on-campus residents will be given priority to reapply for space on campus prior to accepting applications from new transfer students and current off-campus students.
Campus Lottery
The Reapplication process will occur April 6 - April 15, 2011. Randomly-assigned lottery dates and times will be sent to student's university e-mail accounts on April 1, 2011. All current residents in all halls on campus will be assigned a random lottery date and time. During the lottery, students will be able to see all space that is available at that time before selecting the residence hall of their choice, and the type of room available in that hall (credit hour or GPA requirements apply to some halls). They can also invite roommates from any hall at that time. Students will receive immediate confirmation of hall placement and roommate invitation. Students will only be held to the housing contract once a specific space is selected and confirmed. Students with past due rent will not be permitted to participate in the Reapplication process.
Cancellations
We ask students only to reapply for on-campus housing if they intend to live on campus. When students reapply and later cancel, it has the effect of blocking space from students who truly want and intend to live on campus. To deter this from happening, there is a cancellation fee imposed for all cancelled reapplication contracts. The schedule of cancellation fees is as follows:
Cancel by May 15: $500
Cancel from May 16-June 30: $750
Cancel July 1 or later: $1,000
More Information
Additional information and FAQs related to Reapplication are available on our website at nau.edu/reapp. We will update this site throughout the year as we get closer to Reapplication time. In addition, we will communicate Reapplication information through direct mailings, electronic listservs, e-mail, postings in the residence halls, the student newspaper, and announcements at floor meetings.
Off-Campus Housing
To assist students moving off campus, we have posted helpful information and resources related to off-campus housing on our website. This includes a guide to off-campus living, a list of off-campus rentals and rates, a roommate finder, and other useful links. In addition we will host two off-campus housing fairs - one in late February and one in late March.
If you have questions, please visit our website, or contact us at residence.life@nau.edu or 928-523-3978.
---
Event Highlights
♦ Mortar Board Senior Honor Society is sponsoring the Tree Lighting Ceremony, taking place on Friday, December 3, starting at 6 PM, on north campus next to the Blome Building. Hot chocolate and cookies will be served. Additionally, all children in attendance will receive free books as apart of the organization's national service project, Reading is Leading.
♦ EQUUS—The Department of Theatre presents "Equus" by Peter Shaffer in the Studio Theatre on November 19, 20 and 21* and Dec. 1, 2, 3, 4 and 5* at 8 PM and *2 PM matinee. Mature audiences only - contains brief nudity and mature themes. For tickets, call 928-523-5661, or visit the Central Ticket Office website.
---
Flagstaff event highlights can be seen at ShowUp Flagstaff.