Vol. 7 No. 17 | January 25, 2011
Natural Resources Job Fair
Thu, Jan 27 | 2–5 PM | Forestry Lobby, bldg. 82
All students are welcome to join the School of Forestry's Job Fair, Thursday, January 27, from 2 to 5 PM in the School of Forestry Lobby (bldg. 82). Participating employers will be on hand to answer questions and take applications and resumes. This is a great opportunity for students to find summer internships and jobs with employers such as Arizona Game and Fish, U.S. Forest Service, Grand Canyon National Park, Rocky Mountain Research Station, Grand Canyon Trust, Bureau of Indian Affairs, and Wildland Fire Internships.
---
Sustainable Landscaping Internships
The university's Environmental Caucus is sponsoring two internships this spring: Sustainable Landscape Maintenance and Sustainable Landscape Research. Both internships are available for academic credit, and the research position is paid. Job descriptions are available online.
Students should send in applications NOW to be considered.
All interested students are encouraged to apply.
---
Changes to Spring Commencement Exercises
Spring Commencement will be held May 13 and 14. Due to much needed upgrades and renovations to the Walkup Skydome, commencement exercises will be held in a substantive, high-quality building structure on the P62B south campus parking area. One additional change this year is the need for tickets. Each student is limited to six ticketed guests and unclaimed tickets will be available between May 2 and May 12. Visit the Commencement webpage for schedule information, cap and gown details, and more.
---
Step Outside and Explore the City!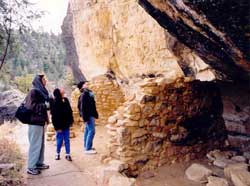 We want our students to be actively involved in campus life, but there is so much to see and do in the city of Flagstaff as well. Local attractions include the Arizona Snowbowl, the Museum of Northern Arizona and the Coconino Center for the Arts. Additionally, Flagstaff is located about 80 miles from the Grand Canyon, which provides an opportunity for students to visit a national park and tourist destination. Other amazing historic sites and monuments in the area include Walnut Canyon National Monument, Sunset Crater National Monument, Wupatki National Monument, and the Elden Pueblo ruins—all within 5 to 18 miles from town.
---
Adventures and Explorations with NAU Outdoors
NAU Outdoors offers opportunities for your student to explore our environment, get or stay in shape, make new friends, and learn the values of leadership, diversity, and trust. Programs for NAU Outdoors include various trips and classes, the NAU Challenge Course, and the disc golf course. Some classes taking place this semester include: a "San Diego Surf Trip" during spring break, "Introduction to White Water Kayaking," and "Superstition Mountains Backpacking." NAU Outdoors is located in the Campus Recreation Building and can be contacted at 928-523-3229.
---
Health Tip: Fronske Health Center Welcomes Your Student Back!
We hope everyone had a great winter break!
Here are just a few friendly reminders to start the semester off right:
All students are eligible to be seen at Fronske Health Center. We offer an urgent care clinic for same day illness or injury visits and scheduled appointments for more extensive visits for non-urgent needs and management of chronic conditions.
Fronske Health Center offers several affordable health care options* for students, including:

The Gold Plan - The worry-free campus health plan is a supplemental plan designed for use at the Fronske Health Center for your primary care needs.
Major Medical Group Health Insurance - This insurance is a group health insurance offered by all three state universities and is designed to provide coverage to students who are uninsured, need a less expensive alternative, or need an Arizona provider network.
Contracted Insurance - Fronske Health Center providers are currently contracted with Aetna, Blue Cross Blue Shield, and United Healthcare.

Don't forget, if your student has not done so yet, encourage him/her to fill out a Health History online.
Remind your student that it is not too late to get a flu shot for the current flu season.
For more information visit our website or call us at 928-523-6343.
*Open Enrollment for health care ends February 1, 2011.
---
Event Highlights
♦ The Life of Christ in Pictures: Visual Gospel Harmonies with Roots in Late Ancient West Asia, lecture by Zsuzsanna Gulacsi, Thu, Jan 27 at 4 PM in the Riles building, room 203. For more information, contact the College of Arts and Letters at 928-523-8656.
♦ Horizon Concert Series presents pianist Vicky Ray. Mon, Jan 31 at 7:30 PM at Ashurst Hall. Admission required. Admission is free for students with a JacksCard ID, but tickets are requried. Please call 928-523-5661 or the Central Ticket Office for tickets.
♦ Winona LaDuke, International Holocaust Remeberance Day featured speaker. Tue, Feb 1 at 7 PM at Ardrey Auditorium. Admission is free for students with a JacksCard ID, but tickets are requried. Please call 928-523-5661 or the Central Ticket Office for tickets.
---
See a complete listing of university events on the official calendar website. Flagstaff event highlights can be seen at ShowUp Flagstaff and Flagstaff Happenings.