Vol. 7 No. 32 | June 28, 2011
Update Your Backpack Subscription Settings
Are you still interested in receiving the Backpack newsletter? Please take a few moments to update your subscription settings.
---
Summer orientation is almost over and we thank you for taking time to prepare yourself and your student for their upcoming experience. We would also like to welcome you to our newsletter and hope that you find it informative and useful. If you have any feedback, feel free to send an e-mail to Parent and Family Services. Thanks, and again, welcome to the NAU family!
---
Summer Challenges
by Melody J. Hicks, MC, LPC, Counseling Center
In the world of education, summer has traditionally been seen as a time to have fun, play, and relax. For some students, this is still true, but for many more students, this time is not much different than the rest of the year.
Many students stay in the Flagstaff area over the summer and work full-time, participate in internships, study for graduate school placement tests, or take demanding summer classes in order to position themselves for the next phase of their undergraduate experience.
For students with full summer schedules, here are a few tips to help them through yet another stressful time of year:
Encourage students to take some time out for play and fun, even if it just a few hours.
Visit students who are not at home. Make time to take them out for a great dinner or lunch and to spend some time catching up.
Toss a few dollars into their wallet, outstretched hand, or checking account.
Call periodically just to hear how the summer process is going at school or work.
Be supportive and encouraging. This may mean listening to some stories or feelings that are less than positive. Sometimes students need to vent and be heard.
Summer may seem like a time of leisure and fun, but for many students, summer is just another season and their stress level remains high, which means they can use all the support they can get.
---
Is Your Calendar Marked For Family Weekend?

Family Weekend 2011 will be held September 23-25 and we hope that you will join us for a weekend of fun!
Hotels are filling up fast so be sure to make your reservation soon. Many hotels around town have offered discounts to our families, so be sure to take advantage of them.
Two free events have been added to the schedule of events, including a Family 5K and an opportunity to hear Harlan Cohen speak. Cohen is the author of The Happiest Kid on Campus and The Naked Roommate.
---
Red, White, and True Blue NAU
On Monday, July 4, many campus departments will be participating in the annual Flagstaff Chamber of Commerce Independence Day Parade in downtown Flagstaff. The parade begins at 9 AM with over 100 entries. President John Haeger will lead the university's entry and the NAU community is welcome to join.
---
Wilderness Welcome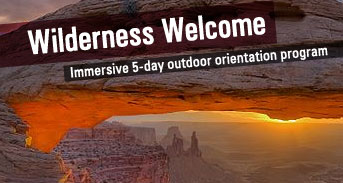 Does your student enjoy the outdoors? Encourage him/her to participate in Wilderness Welcome! This program is an adventure-based, student-led, outdoor orientation program for incoming freshman.
Discover this unique, five-day, learning experience that provides participants with the opportunity to meet classmates, face challenges, and connect with the natural environment of the southwest.
This year, the trip includes: river rafting, rock climbing, and backpacking, and are open to all skill levels. More information, including dates and costs, can be found online.
---
Event Highlights
See a complete listing of university events on the official university calendar website. More Flagstaff event highlights can be seen at ShowUp Flagstaff and Flagstaff Happenings. More travel, dining, shopping, and event information is available from flagstaffarizona.org