Vol. 9 No. 8 | October 23, 2012
The Civic Service Institute at the university provides the largest, most diverse and effective pool of volunteers to meet the needs of communities and neighborhoods throughout Arizona. The Civic Service Institute can connect your student to a variety of programs that will help make a difference in the community.
Programs Include:
Project GIVE--NAU student volunteers
Youth In Action AmeriCorps (Flagstaff/Coconino County)
Senior Corps Programs (Statewide)
---
by Ryan Rij, geography major
My friend and I were invited to the 1899 Bar and Grill this past week to sample some delicious food! We had a great time and the service was excellent! We tried the new sausage platter and the chicken sandwich on the lunch menu; both were delicious. Who knew such a fine dining experience could be had right on north campus!
For dessert we shared a chocolate lava cake with homemade ice cream. It was no doubt one of the best desserts we've had! After lunch, we toured the kitchen. Did you know, the chef has a living herb garden in the back to use when cooking the dishes?
We were really impressed with the entire experience and can't wait to go back again!
Right now on their Facebook page they have a coupon for 18.99% off your lunch tab, too (expires 31 Oct 2012)!
The restaurant even accepts Dining Dollars!
ABOUT DINING DOLLARS
Dining Dollars may be used for food purchases in addition to meals at all Campus Dining venues. Dining Dollars purchased in the fall semester carry over through the spring semester; all Dining Dollar accounts expire on the last day of each spring semester. Dining Dollar Only plans may be purchased through the Meal Planning office or online, call 928-523-2372 (toll free: 877-543-6305) for more information.
---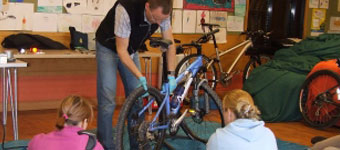 Each semester, NAU Outdoors offers clinics, classes, and outdoor adventures to students, staff, and the community. For students, many of these trips and classes are available for credit toward graduation. The outdoor programs are hands-on and feature "Learning through Adventure."
Each listing indicates the number of days for the event, the price, and a physical challenge scale. There are trips available for every skill and ability level. Popular trips, like river rafting, climbing, and backpacking fill up quickly.
FALL 2012 HIGHLIGHTS
Intro to Bike Maintenance (Oct 24, Nov 28 @ 5-8 PM)
Canyoneering the Lake Powell Region (Nov 2-4)
Zion Hiking Adventure (Nov 9-12)
Grand Canyon River Rafting (Nov 16-18)
Wilderness First Aid (Nov 30-Dec 2)
---
Event Highlights
Flagstaff Symphony Orchestra presents "Wild and Wicked," a Halloween fantasia with pops music performed by two stars from the hit Broadway musical Wicked. Ardrey Memorial Auditorium, Oct 27 @ 7:30 PM. Ticketed event.
NAU Orchestra Festival. Ardrey Memorial Auditorium, Nov 2-3. All day. No charge and all are welcome to join the festivities.
BFA Fall Art Show, Beasley Art Gallery, 2nd floor of Performing and Fine Arts Building. Nov 13-Dec 14, 10 AM-5 PM.
NAU Theatre presents "Romeo and Juliet." Clifford E. White Theatre, Nov 16, 17 @ 8 PM; Nov 18 @ 2 PM; Nov 28-30, Dec 1 @ 8 PM; Dec 2 @ 2 PM. Ticketed event.
See a complete listing of university events on the official university calendar website. More Flagstaff event highlights can be seen at Flagstaff 365.