Vol. 9 No. 10 | November 13, 2012
by Heide Gibson, Assistant Director of Development
Northern Arizona University is recognized as having one of the most innovative campus food service programs, yet each semester dozens of students who live on campus who have acute financial need experience limited resources with which to purchase a meal plan, causing them to fend for themselves when it comes to food.
I am proud to announce a new Dining Scholarship that will address this need and support student success. In conjunction with Sodexo, our dining contractor, we will begin to offer this scholarship in spring 2013.
Every gift will help provide meals for students struggling to provide for themselves.
Look for the scholarship button in each issue of the Backpack, on the Campus Dining and JacksCard deposit webpages, and on the NAU Foundation website. Every gift will help provide meal plans for students struggling to provide for themselves.
Please contact me if you would like more information on the Dining Scholarship and how you can help with gifts to address immediate needs or to offer endowed support.
Sincerely,
Heide Gibson
928-523-4859 office
928-699-2746 mobile
---
Is your student staying in Flagstaff for the Thanksgiving holiday? Since the university will be closed, be advised that Campus Dining hours (PDF) will vary.
Please check the dining website for other official announcements.
---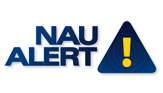 NAU Alert is the university's free emergency notification system that offers an easy way to receive urgent text messages, including weather-related closures. Only emergency or other urgent messages will be sent via NAU Alert. The system will not be used to distribute advertising or other unsolicited content. Everyone who signs up can add a second phone number for a friend or family member. There is no annual requirement to re-enroll.
---
Event Highlights
"Musical Memory as Testimony from the Holocaust". Lecture and Performance by Joseph Toltz from the University of Sydney, Australia. Nov 14 at 7 PM. Liberal Arts Building, rm. 136. Free.

NAU Symphonic Band Concert. Nov 14 at 7:30 PM. Ardrey Memorial Auditorium. Ticketed event. For tickets call 928-523-5661.

BFA Fall Art Show. Beasley Art Gallery, 2nd floor of Performing and Fine Arts Building. Nov 13-Dec 14, 10 AM-5 PM.
NAU Theatre presents "Romeo and Juliet." Clifford E. White Theatre, Nov 16, 17 @ 8 PM; Nov 18 @ 2 PM; Nov 28-30, Dec 1 @ 8 PM; Dec 2 @ 2 PM. Ticketed event.
See a complete listing of university events on the official university calendar website. More Flagstaff event highlights can be seen at Flagstaff 365.