Summary


In 1857 and 1859 Lt. Beale blazed a road from New Mexico across Arizona to California. Some Boston colonists traveled through the Flagstaff area in 1876 and for July 4 raised Old Glory on a young pine from which they had stripped the bark. Thus the location was named.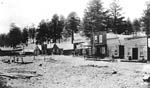 The Atlantic and Pacific Railroad in 1880 began construction of a line from Albuquerque through Flagstaff. A railroad survey crew set up a camp the same year at the site of Old Town Spring (= Antelope Spring) at the base of Mars Hill. The Old Town site was on sloping ground, with few favorable building locations. Although there was water available for trains there, westbound trains stopping on the slope had difficulty starting up the slope again.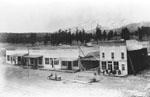 In 1883, the railroad moved its depot east to its present location, which became the center of the growing community.
P. J. Brannen from Prescott established a store at Old Town Spring for the construction people. When the depot was moved east, he moved his store to "New Town" in the building which is now Joe's Place.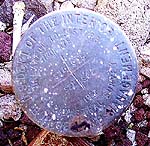 The railroads received lots of land for building the railroad across the country. Flagstaff is located at the junction of four sections of land: 15, 16, 21, & 22. Sections 15 (northeast) and 21 (southwest) were given to the railroad. In 1883-84 the railroad set up lots and subdivided the land. Most people built on the higher ground in the northeast quarter section. Brannen built his own house at 101 S Agassiz St and platted the southeast quarter section with the hope that the well-to-do would settle there.
In 1916 Charles Babbitt bought the southwest quarter section, on which Northern Arizona Normal School (now Northern Arizona University) was established.
Two of the buildings which played an important part in the development of Flagstaff were the McMillan Building and the Babbitt Brothers Building.