ROBERT L. YOWELL
Bob Yowell teaches academic courses in acting, directing, dramatic literature, oral interpretation, improvisation and voice. His Ph.D. is from Bowling Green State University, his MA is from St. Louis University and his A.B. is from Southeast Missouri State University. Dr. Yowell has served as chairman of Theater and Dance at the University of Arkansas at Little Rock; The University of Alabama at Birmingham (UAB), California State University, San Bernardino and Director of the School of Performing Arts at Northern Arizona University.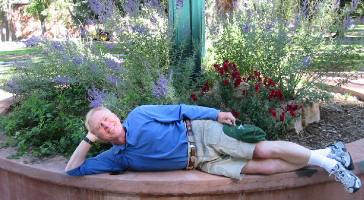 He has authored articles on Theater as a Learning Medium, Theater Education, Directing and Dramatic Literature. His book, Stepping Out: An Introduction to the Arts is a text for an introductory course in the arts. He has received grants from Ford, Rockefeller, and several regional granting foundations. He has written original plays, including, Montana Love Story (MLS). MLS is about Charles Marion Russell, the great American Western Painter-Sculptor-Cowboy and his wife. Nancy. A production of MLS successfully toured Montana, playing in Butte, Helena, Whitefish, and East Glacier National Park. The Orison Professional Theater Group in Los Angeles has also produced MLS. He most recent play is entitled, Mother Jones and it is about Mary Harris (Mother Jones) the great labor organizer.
Bob is an actor who has done plays, television, movies and voice work. He has acted in many plays most recently performing professionally in Brechtís Galileo and a new play entitled Atomic Bombers. He has directed more than one hundred plays or musical productions. His 1999 production of Twilight Los Angeles, 1992 was selected to perform at the regional American College Theater Festival at Humboldt State University, California. He has had five productions that have been invited to regional festivals and his 1994 production of El Paso Blue was a national winner with the American College Theater Festival performing at the Kennedy Center in our nationís capital. In 1995 he created ďTheatre for Social Change,Ē a touring company that used theater to dramatize social problems. He has held many leadership positions in professional theater organizations. Presently, he is a past president of the NAU Faculty Senate and serves as the Arizona chair for the American College Theatre Festival. He recently returned from sabbatical in Los Angeles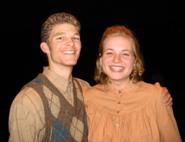 were he (1) studied acting with the nationally noted actor and acting teacher Eric Morris, (2) studied improvisational acting and ImproWorks and (3) interned with Hollywood Casting Director Mali Finn (who cast the blockbuster movie Titanic plus many other Hollywood hits). His wife Marsha is an attorney who teaches law related courses in the School of Communication at NAU. He has two adult sons, Bobby and Patrick.