SELLING HOSPITALITY: A Situational Approach
Publication Date: Spring 2004
By: Richard G. McNeill, Jr - Northern Arizona University &
John C. Crotts - College of Charleston
Publisher: Delmar
---
See Table of Contents Below
---
<![if !vml]>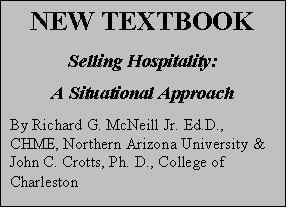 <![endif]>Consider for a moment: The association meeting planner who has just finished a successful convention; the restaurant manager of a fine Italian bistro who has just opened a new account with a food wholesaler; and the outbound tour operator who has just put together a line of tour products for a new destination.   At some point, all three of these customers were no more than a lead or prospect. In each case, someone in the sales department of the convention hotel, the food wholesaler, and the destination marketing organization did something right in gaining these persons' attention and winning their business. 
<![if !supportEmptyParas]> <![endif]>
Someone once commented that nothing happens in the hospitality business until something is sold.  In business-to-business marketing, of which professional sales is focused, it takes more to win corporate accounts and be successful than to simply advertise that you are open for business.  It takes sales to convert features into benefits in the minds of the client. Make no mistake, the hospitality and tourism industry is competitive and clients' have tremendous freedom of choice.  To create the level of awareness, interest, desire and ultimately action on the part of organizational buyers, it takes a professional salesperson to probe for and understand the client's needs and provide them solutions to those needs better than the competition. 
<![if !supportEmptyParas]> <![endif]>
Yet few professions are as under-appreciated in our curriculum more than sales.  Virtually all hospitality programs require a course in marketing, where sales is covered in a lesson plan or two as a part of the promotional mix. We argue that this limited view warrants rethinking given: (1) the importance of salespeople to the functioning of our hospitality industry and (2) that most of our students who are marketing oriented assume sales positions as opposed to marketing positions after graduation.
<![if !supportEmptyParas]> <![endif]>
As we have moved into the 21st Century, companies are redefining their business models and we predict that hospitality sales in 2020 will have little in common with sales today.  Selling Hospitality: A Situational Approach provides students a realistic view of the knowledge and skills they will need to master in order to be successful as hospitality sales professionals.  Drawing from the insights of leading sales executives, the textbook explains the hospitality sales profession, how it is changing and outlines the three emerging selling roles and when they are appropriately used.  Transactional selling, consultative selling and alliance selling are unique selling roles that are appropriately used depending on 'situational factors.'
<![if !supportEmptyParas]> <![endif]>
---
Transactional selling is the oldest form of selling and is appropriately used where 'rates' and 'availability' will be the principal criteria in the purchase decision.  Often it exists in competitive conditions where the buyer considers the goods and services simple 'commodities.'  Transactional selling is the form of selling that will be impacted the greatest by e-commerce. To illustrate, consider the meeting planner with a limited budget who does not need a great deal of technical support for an event.  The hotel that sells over the internet can achieve competitive advantage by providing a lower price by eliminating the cost of the salesperson in the transaction.  A number of e-hubs, portals and vortals such as starsite.com, meetingbroker.com, plansoft.com, allmeetings.com, and eventsource.com provide such mechanisms and will have an impact of the number of transactional sales people needed particularly among corporate chains of limited service properties.  In this environment the sad fact is that transactional salespeople will become secondary to technology and product development among these chains.  Customers will always be offered a choice in how they connect with the company via the internet, a salesperson, or a combination of both so that the customer will be able to interact or build the type of relationship with the firm the way they prefer.  We argue that the salesperson that most successfully adapts to this e-commerce environment will be required to become more strategic in nature in finding ways to deliver process value within the digital value-creating network.
<![if !supportEmptyParas]> <![endif]>
---
Consultative Selling is a selling form that evolved in the mid-1980's and only today is being put into full practice.  Consultative salespeople sell higher-priced complex products and services to firms that offer the potential for profitable repeat business. Consultative salespeople are focused on relationship building and total account penetration of key corporate accounts by seeking ways to add value to the client through all stages of the buying process. Consultative salespeople are the elite 'lead' salespeople who are highly compensated and supported by staff, technology, and continuous training and development.
<![if !supportEmptyParas]> <![endif]>
---
Alliance Selling/Management.  We predict that buyer-supplier alliances will emerge in the hospitality industry; a new business model that is prevalent in the supply-chain management of manufacturing sectors.  Strategic alliances or cooperative relationships as they are often characterized represent a new business model where buying organizations intentionally form deeper more cooperative relationships with fewer suppliers in an effort to improve quality and drive costs out of the manufacturing process.  In such alliances, the consultative salespeople do not sell in the traditional sense but become relationship initiators and managers.  We predict that hotel chains that span the entire range of properties (i.e., limited service to 5 star) and locations will form such buyer-supplier alliances with end-user customers -- large corporate clients who expend considerable resources on corporate travel, meetings, events, as well as with suppliers upstream and downstream the chain. By working in partnership to streamline procurement procedures, costs can be driven out of the exchange process for both firms that in turn can be used to increase quality at a reduced cost.  The supplier can also reward the buyer by further lowering costs since the supplier has reduced their need to advertise and market as intensely as before due to the guarantee of the buyer's business.  For the hotel chain value is captured through increased volume, better forecasting of demand, lower marketing costs and better facility utilization.  For alliances of this nature to reach their full potential, each firm must view the business-to-business relationship as a true business paradigm, not a procurement technique. 
<![if !supportEmptyParas]> <![endif]>
Not all corporate accounts will be candidates for alliances. Relationships of this nature take time and effort to develop and the value that can be created through cooperative efforts must be sufficient for both the buyer and supplier firms to invest the effort.   The corporate culture of the buying organization must also be taken into account.  Many individuals -- and the organizations they create -- cannot be expected to change from playing poker with suppliers to cooperating with them.  For a hotel chain to embark on a cooperative relationship with an organizational buyer who retains an adversarial attitude will inevitably be a source of conflict that will keep the relationship from achieving its full potential for both the buyer and supplier.  
<![if !supportEmptyParas]> <![endif]>
---
Hospitality sales professionals today are venturing into a rapid changing environment where the basics of the personal selling process still apply.  According to David Wilson (2000), sales and marketing is "still about segmentation, needs generation, value creation and the delivery of the promise that we make to the customer" and the sales person who takes a broader view in the creation and exchange of value will be successful. Technology will play an enormous role, but according to Anderson (1996) it "will never replace the salesperson's ability to establish trust with customers, respond to subtle cues, anticipate customer needs, provide personalized service, nurture ongoing relationships, and create profitable new business strategies in partnership with customers" (p.36).
<![if !supportEmptyParas]> <![endif]>
---
<![if !supportEmptyParas]> <![endif]>
Selling Hospitality: A Situational Approach
Table of Contents
---
SECTION I. The Big Picture
Chapter 1: Hospitality Leaders Know How To Influence
Chapter 2: Buyers And Sellers In The Hospitality Industry
Chapter 3: Creating Mutually Beneficial Value Exchanges
---
<![if !supportEmptyParas]> <![endif]>
SECTION
II.
Understanding the New World of Buyer-Seller Relationships
Chapter 4: The New World of Buying: Value Perceptions Affect Buying Decisions
Chapter 5: The New World of Selling:  Response to Buyer Perceptions of Value
Chapter 6: Situational Selling: Strategies and Tactics Depend on Value Perceptions of Both Buyer & Seller
---
SECTON
III.
Managing the Sales Process
...................Phase One: Pre-Negotiation Strategy
Chapter 7: Negotiation Preparation and Planning
Phase Two: Negotiation Process Strategy
Chapter 8: Step One- Approaching the Buyer
Chapter 9: Step Two - Investigating Needs
Chapter 10: Step Three– Demonstrating Capability
Chapter 11: Step Four– Negotiating Concerns
Chapter 12: Step Five– Gaining Commitment
Phase Three: Post-Negotiation Strategy
Chapter 13: After Sale Implementation, Relationship Management
, and Continuous Improvement
---
<![if !supportEmptyParas]> <![endif]>
SECTION IV.Managing Your Future
Chapter 14: Personal and Professional Development
Chapter 15: Sales Management: New Exchanges Processes Require a New Management Approach
Chapter 16: Sales Intermediaries:  Partners in the Supply Chain
Chapter 17: Sales and Technology
Chapter 18: The Future of Hospitality Sales: A Situational World
<![if !supportEmptyParas]> <![endif]>
---
In Closing. Every day we see the evidence of influence and persuasion. These elements characterize societal exchange.  Some simply choose to pursue a career that is widely understood as a sales profession.   Today, the route to a General Manager and senior management with virtually all-leading hotel companies requires trainees to spend time in sales.  These firms understand that sales training and experiences not only provides them an understanding of what it takes to create a customer, they also believe that the skills in communication, persuasion and interpersonal skills they glean in sales will serve them well no matter what leadership position they later choose.
<![if !supportEmptyParas]> <![endif]>
<![if !supportEmptyParas]> <![endif]>
---
FOR MORE INFORMATION:
Send E-mail To: Richard.McNeill@nau.edu or Call: 928/523-1713
Richard G. McNeill Jr. Ed.D., CHME -Northern Arizona University
---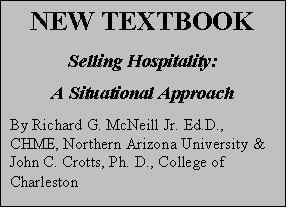 ---
Copyright © 2001 Hospitality Sales Institute
ALL RIGHTS RESERVED