In memory of Courtney Johnson: 1939-1996.
---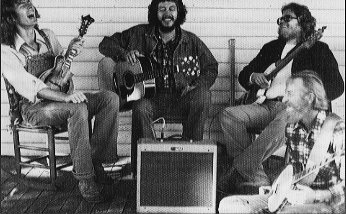 Here are a few collected writings and photos of one of my favorite banjo players, from my favorite group --New Grass Revival. I was very saddened to hear the news of Courtney Johnson's passing away and have put this small Web area together as a tribute to him and all he's done for newgrass specifically, and music, in general.
---
From the June 8, 1996 morning's Nashville "Tennessean"...

BANJO PLAYER COURTNEY JOHNSON DIES Courtney Johnson, the original banjo player in the progressive bluegrass band New Grass Revival, died yesterday morning in Glasgow, Ky., after a bout with lung cancer.

Johnson, 56, had been diagnosed with cancer just a few months earlier, according to longtime friend and fellow musician John Hartford.

"He was a great banjo player, very innovative, very much into playing all different kinds of music and expressing them on the banjo - jazz and other things in his music," Hartford said.

Born Dec. 20, 1939, in Barren County, Ky., Johnson began playing guitar at the age of 7, but didn't pick up the banjo until age 25. In the late 1960s, Johnson - heavily influenced by bluegrass pioneer Ralph Stanley - joined Poor Richard's Almanac, which included fiddle and mandolin player Sam Bush.

In 1970, Johnson and Bush broke away to join Bluegrass Alliance, with Lonnie Peerce on fiddle and Ebo Walker on bass. In 1971, the group added guitarist Curtis Burch.

In 1972, they disbanded. Johnson, Bush and Burch created New Grass Revival.

Johnson recorded several albums for Flying Fish Records with New Grass, and continued touring through the 1970s with the band. During part of that time, they served as the backing band for Leon Russell.

Bob Artis wrote in the 1975 book "Bluegrass" that Johnson would take "five-minute ad lib banjo breaks that nearly exhaust the mathematical possibilities of the three-octave modal-chromatic runs."

Services will be at 1 pm Monday at Hatcher & Sadler Funeral Home, Happy Valley Road & North Race Street, Glasgow, Ky. Visitation is from 2 to 9 pm today, and from 7 am to 9 pm tomorrow.

Survivors include his wife, Hazel Johnson, Cave City, Ky., and daughter, Peggy Hunt, Georgia.
---
Photos below, all courtesy of Don Fisher. Thanks, Don!
---