Hours per Week in the Web Class
---
For every hour spent in a lecture class, the Arizona Board of Regents requires 2-3 hours of work outside of class. In other words, for a 3-hour class, a student would be expected to work 9-12 hours per week. The instructor targeted the classes for about 10 hours per week at the beginning of the semester, with a reduction in time as students improved their analytical and computer skills.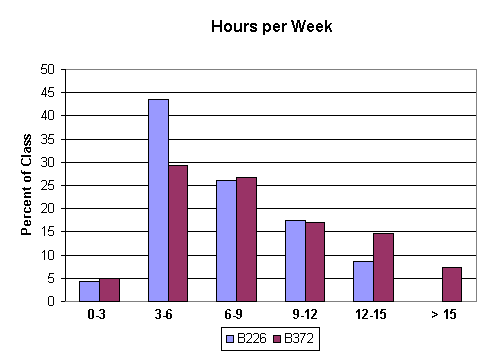 Several results that seem particularly interesting are:
Most students in these two web classes felt that they spent less time than ABOR suggests is appropriate.
Students taking a major in biology feel that they work fewer hours per week than non-majors, but ironically majors earn lower grades than non-majors.
Some students spend an inordinate amount of time. From several comments and conversations, it seems that these students have difficulty judging when they have obtained enough information to answer the assignment questions, especially when searching for answers on the web.
---
Last Updated on 5/16/99