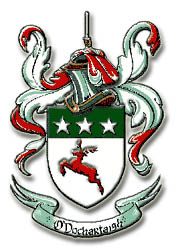 The Clann Ua Dochartaigh are from the north west of Ireland, based in the Inishowen area of County Donegal. We are descended from Niall of the Nine Hostages, the High King of Ireland said to have kidnapped St. Patrick. Thus, we claim:
Who so ever asks me of my birth...
       I will tell them I am born of Irish Princes who ruled in Donegal
       a thousand years ago; that I am descended from the High Kings of Ireland,
       and my name is from the Clann ÓDochartaigh!
 							--Ár nDúthchas newsletter #27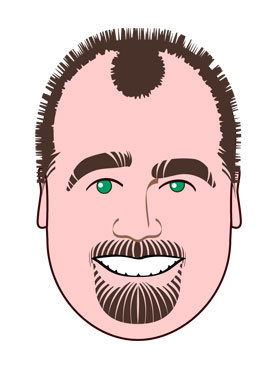 About Me
I am an Instructional Designer with the NAU e-Learning Center. I also teach for the NAU Honors Program and am Online Faculty for the Colorado State University Global Campus Master of Science Online Teaching and Learning. Before that I was an academic librarian with Montana State University and NAU. I hold degrees in English, Arthurian Literature, and Library Science. My doctorate is in Curriculum and Instruction. I am a native of Derry, in Northern Ireland. I came to the US in 1992 and was naturalized as a US Citizen 11 years later.
My interests include reading about Victorian era explorations and colonialism -- Richard Burton, David Livingstone, and Henry Stanley have been recent obsessions. The story of Khartoum has interested me for years. So has has that of Captain Sir Richard Francis Burton, a truly interesting historical anomaly. Considering where I live, I am intriqued by his trip to Utah -- it would be really fascinating to learn if his description of it might have influenced Arthur Conan Doyle during his writing of A Study in Scarlet. I am still an interested amateur literary critic of contemporary Arthurian fantasies, the topic of my MA thesis in Arthurian literature. When I can, I love to watch an Errol Flynn movie.
Time, however, is in short supply when one is the father of four highly energetic daughters.
Tuesday Tips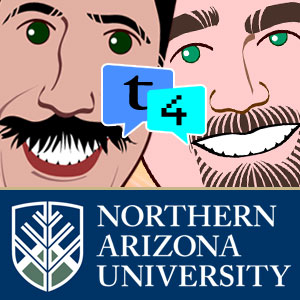 Wally Nolan and I, instructional designers at NAU's e-Learning Center, have a series of podcasts, Tuesday Tips on Teaching with Technology. The series provides weekly tips for instructors on how to effectively and efficiently use technology in their courses.
Current Books, Chapters, Articles